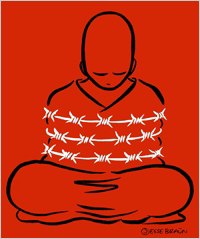 The Saffron Revolution is a year old, check-out our previous post,
Please help Burma - now!
On the eve of the anniversary of the biggest democracy uprising in Burma since 1988 more than 2,000 innocent political prisoners languish in Burma's squalid prisons. The regime launched a brutal crackdown to crush the uprising, arresting, torturing and murdering many of those peaceful protesters.
After the uprising the regime promised the UN it would stop arresting people who criticise the regime. Since the uprising the number of political prisoners has doubled to 2,130. These people have committed no crime. They are imprisoned because they believe that Burma should be ruled democratically.
TAKE ACTION – FREE BURMA'S POLITICAL PRISONERS
Ban Ki-moon has said that he will go to Burma later this year, write to him now, tell him why he must secure the release of all of Burma's political prisoners, email him here:
http://www.burmacampaign.org.uk/un_action.html
Political prisoners in Burma are subjected to horrific torture, routinely denied medical treatment and survive on rotten food and dirty water. Prisoners like Mya Aye, who has been detained in Insein Prison, Rangoon, since August 2007 without charge. He has been imprisoned for 8 of the last 18 years and is denied medical treatment even though he has heart problems and has already suffered one heart attack.