The White House confirmed today that Barack Obama will meet the Dalai Lama in Washington later this month on either on the 17th and 18th in defiance of Beijing.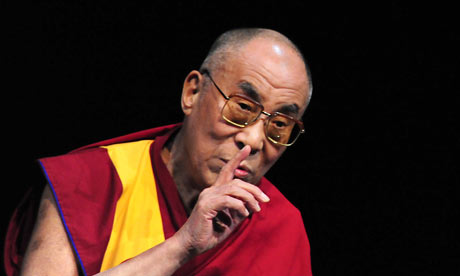 Zhu Weiqun, a Chinese Communist Party offical, said that a meeting between Mr Obama and the Dalai Lama would "seriously undermine the political foundation of Sino-US relations". In what amounted to a thinly veiled threat, Mr Zhu said bad relations with Beijing could even harm America's economic recovery.
"If the US leader chooses to meet the Dalai Lama, that would damage trust and co-operation between our two countries; how would that help the United States surmount the current economic crisis?" Mr Zhu asked.
"We will take corresponding measures to make the relevant countries realise their mistakes," he added.
Obama's meeting with his Holiness is a welcome about-turn after
his refusal to meet him last October
. Gordon Brown
refused to meet the Dalai Lama in May
of the previous year, also to avoid "upsetting" the Chinese.