Here's a story you might have missed..... 21-year-old Choeyang Kyi, the first Tibetan to participate at an Olympics won a bronze medal in the women's 20-kilometer race walk Saturday.
Beaming her way through the finish line, Choeyang said she felt honoured to participate in the Olympics as a Tibetan.
"I'm extremely honoured to take part as the first representative of the Tibetans at the Olympic Games and to win a medal," the Associated Press quoted Choeyang as saying.
Tibetans gathered to cheer Choeyang waved Tibetan flags along her route past the Buckingham Palace. Choeyang said she heard Tibetans cheering for her. "I heard it! Really. I heard a Tibetan cheering me on. At the time, I looked backward but couldn't see who that person was," she said.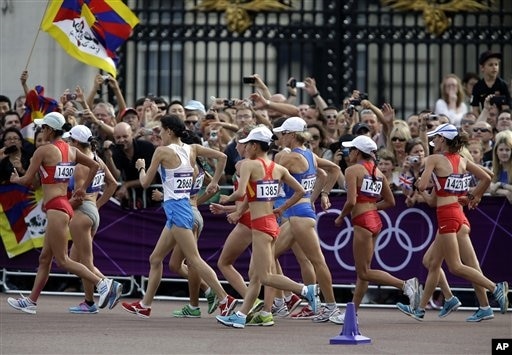 Lodi Gyatso, a Tibetan living in England was one of the Tibetans who carried banners that said "You go girl, we Tibetans are with you." Lodi said he had mixed feelings in seeing Choeyang's participation in the Olympics. "As a Tibetan, I was very happy to see a Tibetan woman making history in this important event, but I was bit saddened at the same time that her win raised China's flag at the award podium."