The Archbishop of Canterbury says he has no objection to Prince George converting to Buddhism.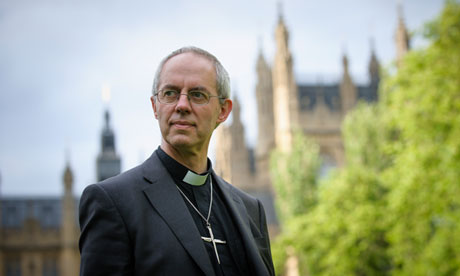 The Most Reverend Justin Welby, speaking one day after he led the christening of the future Supreme Governor of the Church of England, said the prince is 'perfectly entitled' to change his religion should he so choose.
Although the remark is likely to alarm traditionalists it is however, in keeping with Prince Charles's oft-repeated wish that he wants to be seen as the Defender of Faiths' instead of 'Defender of the Faith', to more accurately reflect Britain's multicultural society.
The Archbishop was asked by Channel 4 News what his reaction would be if George, the third in line to the throne, wanted to leave the Church of England to become a
Buddhist
.
He replied: 'He's perfectly entitled to be that, and we'll cross that bridge if we ever get to it. Who knows?'
The remarkable statement came just 24 hours after he conducted the young prince's christening at the Chapel Royal in St James's Palace.