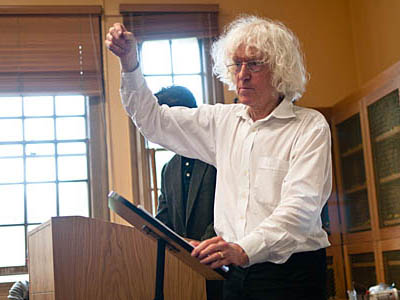 Derek Parfit, the British philosopher who specialised in problems of personal identity, rationality,
ethics, and the relations among them, died on Monday at his home in London. He was 74.
Parfit, who was associated with All Souls College at Oxford for his entire career, rose to pre-eminence with the publication of his first paper, "Personal Identity," in 1971.
He developed a theory of identity that downgraded the notion, and the importance, of an irreducible self — the "deep further fact," as he called it" — in terms not dissimilar to
Buddhism
.
Anattā (no-self, without soul, no essence) is the nature of living beings, and this is one of the three marks of existence in Buddhism, along with Anicca (impermanence, nothing lasts) and Dukkha (suffering, unsatisfactoriness is innate in birth, ageing, death, rebirth, redeath – the Saṃsāra cycle of existence).
Meditation helps one to view what is really going on within the construct which we call "me". It is ever changing, dependent for its identity upon "exterior" factors and can be seen as merely a vocalised response to sensory inputs and re-run memories and random thoughts. It is impermanent (Anicca) , it will die.
It's activities are constantly searching for fulfilment (Dukkha), the avoidance of the suffering we inflict upon ourselves when we can't escape contact with that which we dislike or get what we want.