On April the 13th, on the eve of the 127th anniversary of the birth of Dr. B. R. Ambedkar, Indian prime minister Narendra Modi inaugurated the Dr. Ambedkar National Memorial in New Delhi—at the place where Dr. Ambedkar died on the 6th of December 1956.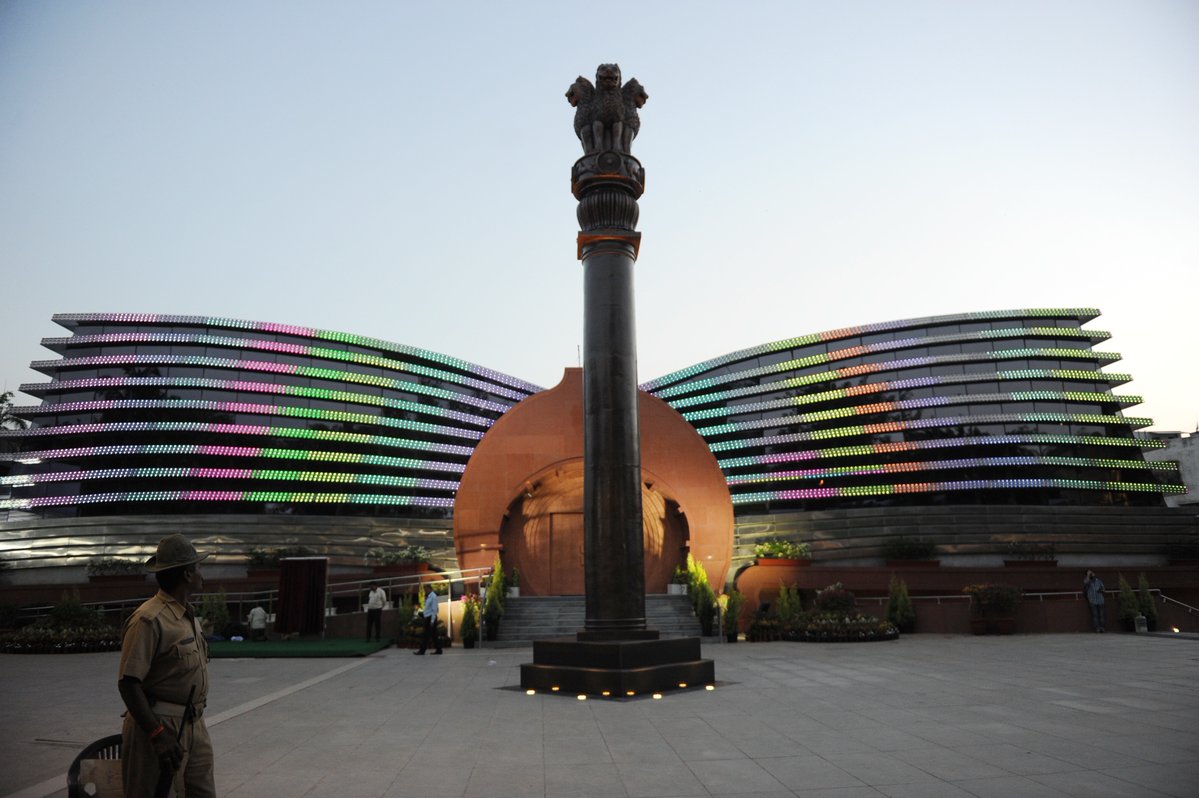 The Memorial has been designed to resemble the shape of an open book in reference to the Constitution of India, of which Dr. Ambedkar was the principal architect. The building is completely green, combining modern architecture with Buddhist elements. Modi previously laid the first stone for the memorial's construction on 21 March 2016.
The new memorial houses a marble statue of the Buddha, a meditation hall, a Bodhi tree, a replica of the Ashoka pillar at Sarnath in Varanasi, musical fountains, façade lighting, and a 3.7-meter bronze statue of Dr. Ambedkar.
Bhim Rao Ambedkar, an 'untouchable', or Dalit, who converted to Buddhism was a prominent Indian freedom fighter, and the chief architect of the Indian Constitution, which outlawed discrimination based on caste.
Born into a poor family, Ambedkar spent his whole life fighting against social discrimination in the caste system during and after British colonial rule, which ended in 1947. He is also credited with having sparked the Dalit Buddhist movement.
The Dalit Buddhist movement (also known as the Neo-Buddhist movement) is a socio-political movement by Dalits in India started by Dr. Ambedkar. It radically re-interpreted Buddhism and created a new school of Buddhism called Navayana. The movement has sought to be a socially and politically engaged form of Buddhism.
Triratna Bauddha Mahāsaṅgha (formerly called TBMSG for Trailokya Bauddha Mahasangha Sahayaka Gana) is the Indian wing of the UK-based Triratna Buddhist Community founded by Sangharakshita. Its roots lie in the scattered contacts that Sangharakshita had in the 1950s with Ambedkar. Sangharakshita, then still a bhikshu, participated in the conversion movement from 1956 until his departure to the UK in 1963.
When his new ecumenical movement had gained enough ground in the West, Sangharakshita worked with Ambedkarites in India and the UK to develop Indian Buddhism further. After visits in the late 1970s by Dharmachari Lokamitra from the UK, supporters developed a two-pronged approach: social work through the Bahujan Hitaj trust, mainly sponsored from the general public by the British Buddhist-inspired Karuna Trust (UK), and direct Dharma work. Currently the movement has viharas and groups in at least 20 major areas, a couple of retreat centres, and hundreds of Indian Dharmacharis and Dharmacharinis.
A little-known fact is that Roma gypsies trace their origins to the Dalits of India and several have followed the lead of their Indian compatriots and converted to Buddhism, often as a response to discrimination. There is a sizeable Gypsy Buddhist community in Hungary, they take their inspiration from Dr. Ambedka and are officially affiliated to the Triratna Buddhist Community.