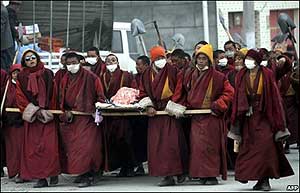 Further to our post "
Buddhist Monks Cremate Earthquake Dead
" it now appears that the Chinese authorities have imposed restrictions on rescue and relief work by monks and nuns.
Under these restrictions, all those who had gone to the quake-hit area from outside the Yushu region have been ordered to go back to their areas. All monasteries have been told that only monks and nuns belonging to monasteries located in the Yushu area can participate in the rescue and relief work. Others have been banned from participating.
The Chinese became nervous and imposed the curbs when a monk publicly refused to shake hands with President Hu Jintao and hundreds of monks and nuns took out a candle light procession to pay homage to those killed. The processionists shouted slogans that His Holiness the Dalai Lama should be allowed to visit his home province to console his people in distress.