You may remember our story "
A Buddhist Shanty Town?
" about Serthar Institute, also known as Larung Gar Buddhist Academy in the Larung Valley, Serthar County of Garze Tibetan Autonomous Prefecture, in "China". Well it's in the news again as it is being reported that the remote Tibetan Buddhist institute, thought to be among the largest in the world, has been seriously damaged in a huge fire, reports said last Friday, the cause of the inferno remains a mystery.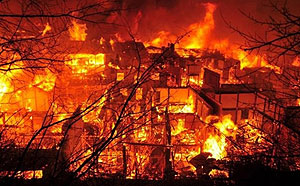 The institute was founded in 1980 in an uninhabited valley and has since grown to become one of the world's most important centres of Tibetan Buddhism, with an estimated population of 10,000 monks, nuns and students living in small wooden homes on the hillsides surrounding the complex.
Its founder, Khenpo Jigme Phuntsok, who died in 2004, was known for keeping a strict focus on Buddhism rather than politics at the institute. He maintained a close relationship with both Chinese authorities and the Dalai Lama, the exiled spiritual leader and Nobel peace laureate who Beijing condemns as a separatist.
But the Buddhist academy's survival was threatened in 2001 when armed police forced hundreds of nuns and monks to leave the site, destroying more than 1,000 homes to prevent them returning. Police demanded that nuns sign documents denouncing the Dalai Lama and pledging not to return, according to overseas campaign groups, and Khenpo Jigme Phuntsok was detained for a year after the incident.
In early 2012, Serthar was rocked by violence when police fired tear gas and began shooting into a crowd of hundreds of peaceful Tibetan protesters, exile groups said. China's official Xinhua news agency said that the incident, in which one person was killed, was triggered when "rioters" attacked police with knives, bottles of petrol and guns.