Tensions continued to escalate in Ferguson, Missouri over the death of 18-year-old Michael Brown, an unarmed black teenager shot and killed by a white police officer, Darren Wilson, on August the 9th. His killing has lead to days of protests and an oppressive, militarised police response that has caused national outrage.
But Ferguson residents were pleasantly surprised by a visiting a group of Tibetan Buddhist monks.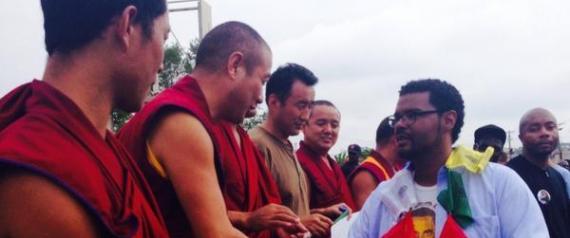 The six monks, from Drepung Gomang Monastery in southwest India, arrived in St. Louis on Saturday as part of the Sacred Tibetan Arts tour, which their monastery puts on every year. They will be spending the next ten months traveling across Americato give lectures, create Tibetan sand paintings (mandalas) and perform traditional ceremonies.
"Ferguson was a very heated issue in our backyard," explained Patty Maher, who is hosting the monks during their stay in St. Louis. "Sunday was their day off. . . . We didn't know what to expect, but they gladly went. And as you saw, their presence was profound."
"In Tibet, you know, many times it happens like this. Everywhere, every month, they have the problem in Tibet, same, the police shooting like this," said Geshe Tsewang Thinley, one of the monks, speaking of Chinese forces' frequent use of live rounds against nonviolent protesters.