Sister Kovida, a senior nun at Chithurst Buddhist monastery, is to leave because of the situation and difficulties for nuns within the Thai Forest tradition. Here is her letter explaining her reasons..........
Dear All,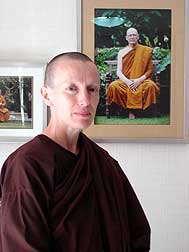 I hope you are all well and coping well enough.
I am writing sadly to share some more news....After much soul searching I have come to a place where I now feel the need to move on from our community. I have decided to leave in November when I go to Burma for a month. I still feel very committed in my heart to being a nun so do not intend to disrobe. I imagine this will not come as a complete surprise to you as some of you know I have been wavering.
The whole series of developments over the last 2 years has been very difficult and challenging for many of our whole community, lay and monastic. In my 15 years as a nun the idea of leaving these communities hadn't seriously occurred to me until last Vassa.
Since then I have inquired into that impulse to find what feels most true. Over these past months I have gradually come to a deeper sense of important areas personally and collectively which we struggle to address as a monastic community. The result of not addressing these areas feels like it to leads to a breakdown in communication and relationship which then makes clearing of misperceptions harder to acheive.
It feels essential to me to be receptive to what arises as best I can, and then listen and respond. Of course I don't always manage this as you well know, but it has been and still is what I most want to develop.
I feel very very sad but also clear in my heart about this step and I will miss you all very much and will definitely stay in touch.
I am deeply grateful for the Teaching and Training and what I have learned from living together within this vehicle which has so many blessings.
with much love and gratitude,
Sister Kovida