Today is Aung San Suu Kyi's 66th birthday and at least this year she is not spending it under
"house arrest".
She has been awarded the freedom of the city of Newcastle. The Nobel Prize winner is not allowed to leave her country so the honour was accepted on her behalf by Wai Hnin, whose father is a political prisoner and who represents the Burma Campaign UK.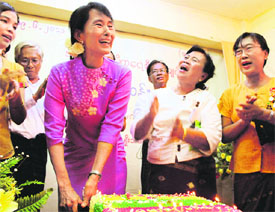 Her name will now be engraved on the walls of the city's Civic Centre, where an official ceremony took place on Friday night.
This follows Aung San Suu Kyi being honoured at this year's Brighton festival with a series of arts commissions inspired by and intended to reflect her "extraordinary spirit".
Burma's opposition leader was named as this year's guest director, following Brian Eno last year and Anish Kapoor in 2009.
Aung San Suu Kyi sent the festival this statement: "It is especially pleasing for me to see, albeit remotely, Brighton festival taking shape this year, and to think that so many people will come together in May to celebrate great art and experience the inner peace it brings.
"It is wonderful too to know that there is such support for the effort to bring democracy and freedom to Burma, for which the Burmese people have been diligently working for so long. I wish everyone involved in Brighton festival this year – the artists and the audience – the happiest of times. Please continue to use your liberty to promote ours."