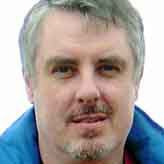 As it's National Poetry Day today I thought I'd post a Buddhist poem. This one is by Dharmavadana who is poetry editor of the
Buddhist arts magazine Urthona
.
His own poetry has appeared in the magazines Haiku Quarterly, Brittle Star, Ambit and in the anthology The Heart as Origami: Contemporary Buddhist Poets (Rising Fire Press 2005), as well as previously in the Buddhist Poetry Review. He lives in London.
I am not different from the unconscious stars,
the clouds that blot them out,
the grass, the trees in veils,
this hut, the steps in front of it, my pillow.
No different from the fire in the wood burner
or the candle flames swimming beside me
on the table. I can't understand myself,
never will. I am not.
No childhood, no adulthood,
no future. No sorrows, no dreams.
There never were any. Look,
I'm already gone. I sleep the sleep
of one who knows he was not created, ever,
and is not here to die.
National Poetry Day is a British campaign to promote poetry, including public performances. National Poetry Day was founded in 1994 by William Sieghart. It takes place annually in the UK and Ireland on the first or second Thursday of October. Since its inception, it has engaged millions of people across the country with live events, classroom activities and broadcasts.